Det är alltid roligt, men samtidigt spännande att se hurdana omslag böcker, som man ser fram emot, får. Här kommer några omslag som jag tycker är riktigt snygga och gör att jag längtar efter boken ännu mer! Kan det bli sommar/höst snart?! Men som tur kommer det ännu en massa böcker att se fram emot under våren.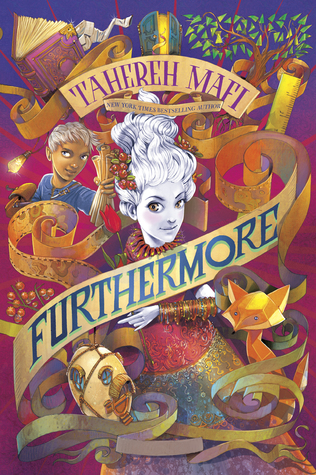 Furthermore av Tahereh Mafi
There are only three things that matter to twelve-year-old Alice Alexis Queensmeadow: Mother, who wouldn't miss her; magic and color, which seem to elude her; and Father, who always loved her. The day Father disappears from Ferenwood he takes nothing but a ruler with him. But it's been almost three years since then, and Alice is determined to find him. She loves her father even more than she loves adventure, and she's about to embark on one to find the other.

But bringing Father home is no small matter. In order to find him she'll have to travel through the mythical, dangerous land of Furthermore, where down can be up, paper is alive, and left can be both right and very, very wrong. Her only companion is a boy named Oliver whose own magical ability is based in lies and deceit—and with a liar by her side in land where nothing is as it seems, it will take all of Alice's wits (and every limb she's got) to find Father and return home to Ferenwood in one piece. On her quest to find Father Alice must first find herself—and hold fast to the magic of love in the face of loss.
Alltså jag älskar allting med det här omslaget - illustrationerna, färgerna, designen. ALLT. Och så är det ju Tahereh Mafis bok, kan inte bli annat än awesome!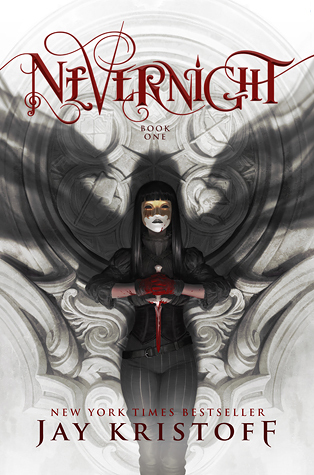 Nevernight av Jay Kristoff
In a land where three suns almost never set, a fledgling killer joins a school of assassins, seeking vengeance against the powers who destroyed her family.

Daughter of an executed traitor, Mia Corvere is barely able to escape her father's failed rebellion with her life. Alone and friendless, she wanders a city built from the bones of a dead god, hunted by the Senate and its thugs. But her gift for speaking with the shadows leads her to the hearth of a retired killer, and a future she never imagined.

Now, Mia is apprenticed to the deadliest flock of assassins in the entire Republic—the Red Church. Treachery and trials await her with the Church's halls, and to fail is to die. But if she survives to initiation, Mia will be inducted among the chosen of the Lady of Blessed Murder, and one step closer to the only thing she desires.

Revenge.
Jag har inte läst något av Kristoff tidigare, men handlingen och omslaget är så badass att jag bara längtar! Masken, symbolerna i bakgrunden, skuggan av vingar?
Bright Smoke, Cold Fire av Rosamund Hodge
When the mysterious fog of the Ruining crept over the world, the living died and the dead rose. Only the walled city of Viyara was left untouched.

The heirs of the city's most powerful—and warring—families, Mahyanai Romeo and Juliet Catresou share a love deeper than duty, honor, even life itself. But the magic laid on Juliet at birth compels her to punish the enemies of her clan—and Romeo has just killed her cousin Tybalt. Which means he must die.

Paris Catresou has always wanted to serve his family by guarding Juliet. But when his ward tries to escape her fate, magic goes terribly wrong—killing her and leaving Paris bound to Romeo. If he wants to discover the truth of what happened, Paris must delve deep into the city, ally with his worst enemy . . . and perhaps turn against his own clan.

Mahyanai Runajo just wants to protect her city—but she's the only one who believes it's in peril. In her desperate hunt for information, she accidentally pulls Juliet from the mouth of death—and finds herself bound to the bitter, angry girl. Runajo quickly discovers Juliet might be the one person who can help her recover the secret to saving Viyara.

Both pairs will find friendship where they least expect it. Both will find that Viyara holds more secrets and dangers than anyone ever expected. And outside the walls, death is waiting. . . .
En Romeo & Juliet retelling. Jag är lite smått förvirrad av handlingen, men omslaget är snyggt och de fem figurerna och kvinnan i röd klänning gör mig riktigt nyfiken på boken.
Någon av böckerna som ni ser fram emot lite extra?